About Jenna's Rainbow Foundation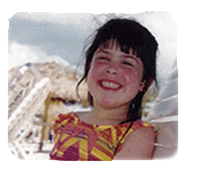 When our daughter Jenna was diagnosed with a brain tumor, little did we know that we were beginning a journey, that now many years later, would reach well beyond our immediate community. Since our Foundation's inception in 1999, we have raised over $1.5 million dollars and have supported numerous families in need. Our successes have been driven by a dedicated board of directors, committee members, and an ever-growing group of committed supporters and volunteers.
Over the past years, we have sponsored many successful events, raised monies and distributed dollars – both directly to families, or through our collaboration with other organizations with common goals . We continue to be amazed at the generosity of our donor base, and more importantly, by the appreciation of those families in need who receive our help. We continue to witness how these grants to families provide not only needed financial support, but emotional support as well. …"You are not alone. Our 'family' has many who continue to cope with their own similar, but individual, tragedies. We are all here to help…contact us, we would love to hear from you."
As you read through these pages, you can scan the events that we have successfully sponsored, keep up with our latest news releases and planned activities and, most importantly, view the ways we have helped families in need. Please visit our donation site and open your hearts to an extraordinary cause. All contributions are much appreciated.
On a personal note, we have met many amazing people and have traveled to emotional places we never would have thought possible when we were struck with the news of Jenna's illness. We are extremely proud of all that we have accomplished and what we will continue to accomplish. Hopefully, our actions will reinforce and honor the courage, determination, love and dignity that Jenna possessed and we will forever celebrate.
If you would like more information about our Foundation, or if you want to get involved, contact us directly via email from this site.
Wishing everybody the very best. Thank you for your time, energy and commitment….There is lots to be done. Please join our family.
Linda and Gideon Kamil