Thoughts of Jenna
Reflections of Jenna by a Camp Dream Street Counselor
by Lori Kestenbaum, JCC Member and Senior at Tenafly High School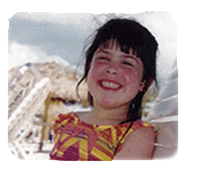 "Jenna, do you want me to help you draw some hearts?" I asked as I put a chunky red crayon into my camper's petite hand.
"Yes, but I can never stay inside the lines once I draw them," she responded in her quiet voice, barely moving her lips. I placed my hand over hers and slowly moved the crayon back and forth until her heart was shaded in completely.
"It's perfect, Jenna. I think it's the best one you've made so far this week." Jenna's eyes glowed with pride as she turned back to her paper to try another heart. For a child with cancer, Jenna had more determination than I had ever imagined any of my campers would have. Prior to my first day as a counselor at Dream Street, a camp for children with cancer and other blood disorders, I was scared. I imagined inactive, fragile hospital patients who would be battling depression. My imagination was wrong.
Volunteering for a week during each of the past two summers has helped me realize that although these children battle disease, they can wear bubbly smiles, and as a counselor, I can help foster their optimism and cheer.
Last year, I had only six little campers in my group, yet keeping all six happy all day was a backbreaking task, especially because of the high demand for piggyback rides. However, during a morning game of hide and seek, when I saw my campers smiling as I pretended I could not see them conspicuously giggle behind a tree, I knew that my efforts were making children happy. Amazingly, the simplest pleasures were the best part of their day. The frequently visited playground created endless hours of amusement. My campers scrambled to hang on the colorful bars swirling out of the sand, and by the end of the week, even I couldn't help enjoying swinging upside down with them on a sunny afternoon.
My favorite camper during my first summer was Jenna; I would never let the other campers know that, but I knew it. On our first day together, Jenna pulled me aside and said, "I'm really hot. Can you put my hair up for me?" I pulled out two extra hair rubber bands and smoothed her deep brown hair back into pigtails. I brought different colored hair ribbons each subsequent day, and sometimes we would experiment with French braids. As we colored and laughed, Jenna's little pigtails bobbed up and down and her childhood innocence illuminated her face. I knew that my love had made a difference in one child's life.
The last day of camp, I realized that I had become a part of Jenna's small world of hope as I handed Jenna the pile of art projects and drawings that had accumulated over the week and we exchanged our final hugs. She turned around once more to wave goodbye, and I yelled, "See you next year!" I had become so immersed in Jenna's small world, though, that I forgot why she was at Dream Street. It never dawned on me that she might not return.
A few months after camp, Jenna died from her brain tumor. I was shocked that a girl who seemed so strong could fall victim to disease so quickly. She had been a portrait of courage and optimism, and she never saw her next summer. I wondered if I could ever face a sick child again, knowing that Jenna, who was such a special and amazing little girl, had lost her battle.
I returned to camp, though, for my second summer, and expected to feel a sense of loss. Instead of grieving over Jenna's absence, though, I allowed her positive spirit to linger within the camp. Remembering Jenna's love of coloring, my campers and I began each morning drawing on bright construction paper. Eight new faces became a part of my life, and eight new smiles left every afternoon. One of my five-year-old campers this summer, Margarita, had sickle-cell anemia and couldn't swim with the other children. To prevent her from feeling discouraged about her illness, Margarita and I spent the afternoons in the gym perfecting her somersaults. Each time she completed one, she would stand tall at her height of three feet as I applauded her accomplishments. "I think I'll give that one a ten, Margarita! It was flawless," I proclaimed as I swept her off her feet for a hug. Her toothless grin spread across her face as I twirled her through the air. I helped Margarita have as much fun as the other children were having, even though she could never swim with them. After my experience with Jenna, I made the most of my campers' time at Dream Street, unsure of what each of their futures would bring.
My two summers at Dream Street have been full of eye opening experiences and a time for giving of myself. In retrospect, I realize that many of my fears about being at a camp for children with cancer were unwarranted. I had encountered hopeful, optimistic campers, and I had become part of their world by erasing their insecurities. Naivete, though, kept what should have been my biggest fear from ever entering my mind. I learned the hard way to treasure my time because of the frailty of each of our precious lives. With a little encouragement and a lot of love, I put my campers on top of the world. Being a part of the lives of these special children has been the most rewarding and meaningful experience of my life.