Programs We're Funding
Jenna's Rainbow Foundation is committed to help support the children, families, and communities dealing with the challenges of combating pediatric brain and spinal cord tumors by funding the following programs…
Information/ Referral Services
JRF supports newly diagnosed families via email helping to insure that families receive access to optimal care, information, and resources.
---
Direct Financial Grants to Families
JRF gives grants to meet specific financial challenges facing families undergoing treatment and supporting end of life care, to fill the gaps where other organizations could not step in. Grant amounts have varied depending on need and specific circumstances. Referrals are made by a professional team to indicate need. *go to grant request page for further information
---
Young Adult Pediatric Brain Tumor Survivor Independence and Career Program
There is a multitude of changes that may occur as a result of a brain tumor diagnosis and its treatment. These changes may be physical, cognitive, emotional, or a combination of many things. As a result, survivors and their parents may struggle to determine their strengths and areas that provide challenges. This can make finding the appropriate career difficult. This contributes to the fact that pediatric brain tumor survivors are five times more likely to face unemployment than their childhood cancer survivor peers.
Jenna's Rainbow Foundation (JRF) has partnered with the Children's Brain Tumor Foundation (CBTF) to create a program that will promote independence and assist with career determination and employment regardless of the disabilities the survivors have. Through the program, CBTF and academic partners have completed a multitude of research examining the causes of unemployment, potential interventions and how to improve communication with employers.
JRF continues to work with CBTF to provide career and accommodation assessments, individual and group career support with assistance from CBTF's Young Professionals Group, and on-going parent and survivor discussion for setting independence goals.
---
Jenna's Rainbow Foundation Sponsored Social and Creative Programs
Social isolation is one of the most significant hurdles survivors face of childhood brain tumors. This can begin in elementary school and last throughout adulthood. As a result, survivors struggle to find hobbies and long for peer support. This often extends to other family members, including parents and siblings. Their peers believe life should return to "normal" when treatment ends.
Jenna's Rainbow Foundation (JRF) determined ending social isolation should be a priority. Therefore, JRF partnered with Children's Brain Tumor Foundation (CBTF) to create social and arts programs to build a peer support community and allow survivors and siblings to express themselves through arts.
With the support of JRF, CBTF offers monthly arts and cooking classes led by survivors, the JRF TAG team, and professional chef Andrew Kovar. As part of the program, they also support weekly mindfulness and yoga classes for any family member. In addition, JRF supports unique art programs each quarter to allow survivors and their siblings to find ways to express themselves and share their stories, including poetry and photography classes.
---
Jenna's Rainbow Foundation sponsored Children's Brain Tumor Foundation (CBTF) Events and Activities
As a result of a brain tumor diagnosis and treatment, survivors are often unable to or feel uncomfortable participating in activities that their peers are part of, including skiing and kayaking. As a result, they are not invited to their peers' planned outings.
Jenna's Rainbow Foundation (JRF) recognizes the importance of physical activity and being a part of group activities. JRF partnered with CBTF to hold weekend adventures for teen and young adult survivors. Ski and kayak activities were led by professionals with expertise in providing physical accommodations so survivors would be successful and safe in skiing and kayaking. The adventures also promoted independence and built a strong peer support community.
THE JENNA'S RAINBOW MOVING FORWARD GRANT. Jenna's Rainbow offers (2) $2500 grants at the two Children's Brain Tumor Foundation Webathons. These grants are to help an adult brain or spinal cord tumor survivor who is moving into a new chapter of their life. The goal is to give financial assistance so these survivors can transition and feel more empowered as they manage the tools and resources needed to "move forward" progress towards independence.
---
Jenna's Friendship Circle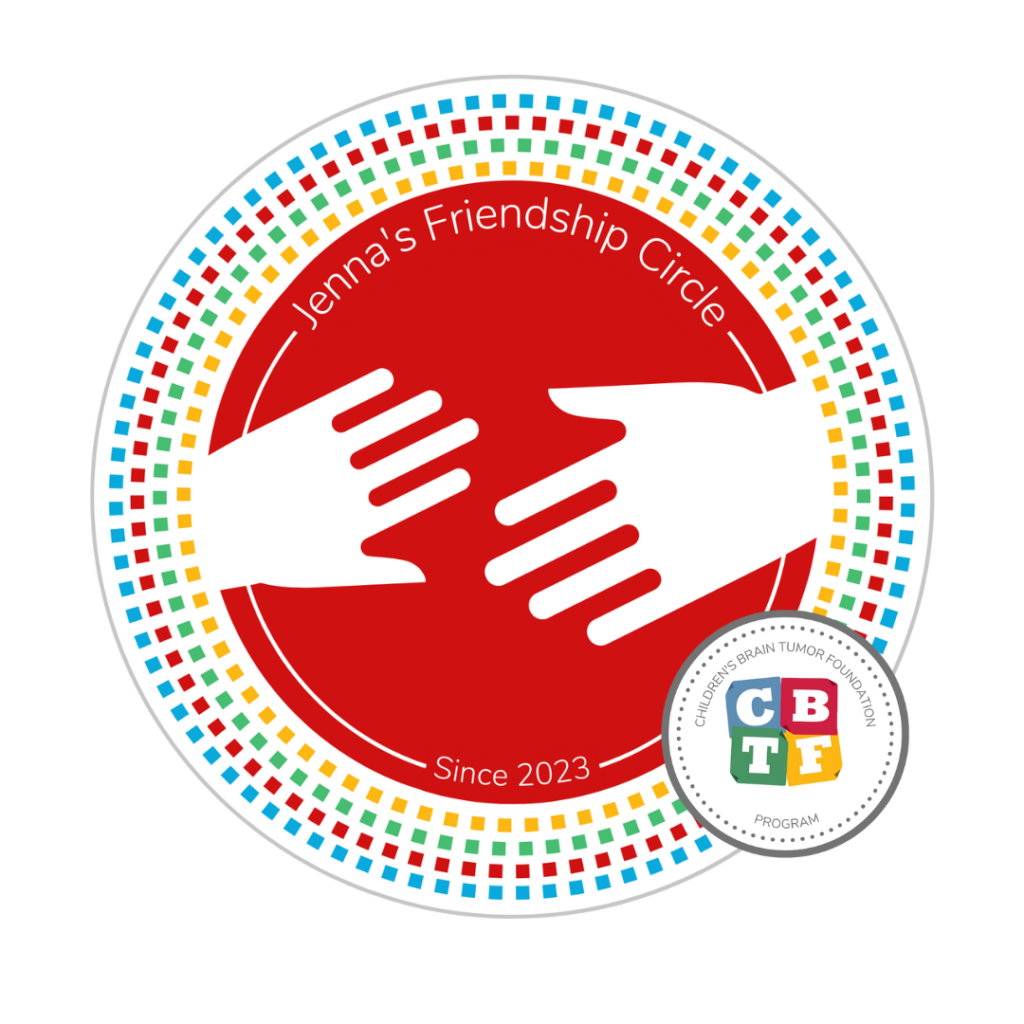 Funded by Jenna's Rainbow Foundation (JRF) and housed on the Children's Brain Tumor Foundation (CBTF) website, Jenna's Friendship Circle is a program that connects survivors and friends the old-fashioned way, through the mail. CBTF has a lot of ways for you to meet people, participate in activities and become a member of the community. This program is different. It is run by a team of young adult brain tumor survivors that want to give back and brighten your day…so once it a while you will just receive a special note, small gift, birthday card, etc, in the mail….no electronics involved.
It's easy. To register just click here https://cbtf.org/friendshipcircle/
---
Teen Recreation Lounge at the Children's Hospital at Montefiore Medical Center (CHAM)
JRF funded the establishment of a Teen Recreation Lounge on the Oncology floor at CHAM. This gave hospitalized teens an opportunity to enjoy some of the comforts of home and create a venue for activities and socialization. This year we expanded our services to include:

The Children's Hospital at Montefiore (CHAM) launched a program powered by The Naomi Cohain Foundation, ArtWorks. The program, Intensive Creative Artists in Residence (ICAIR), was made possible through a grant from JRF that has been generously matched by the Adam Gaynes Foundation.
ICAIR provides a weekly Beat Box program, taught by "DUV". This program provides an outlet for young adults to express their emotions and build confidence for all who participate. The program is available to children and young adults ages 6 – 21. and takes place appropriately in the Teen Recreation Lounge. *Please note since the pandemic "DUV" has been working one on one each week with the patients.
In addition, through a partnership with ArtWorks, the Naomi Cohain Foundation and JRF we have expanded our services to provide an art cart, filled with a variety of arts & crafts, supplies and projects. Each year ArtWorks replenishes the art supplies funded by JRF.
JRF also donated a book cart that we replenish and customize quarterly with coloring books, word search games, sudoku, magazines and more.
---
Tory Wachtel Award for Courage and Character
An annual $1,000 scholarship to acknowledge a Tenafly High School senior who has faced pediatric cancer and other life-threatening illnesses.