Past Programs
Smiles for Sophie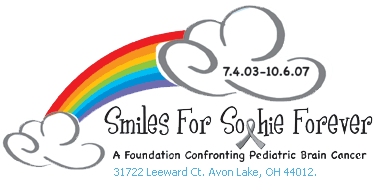 In April 2016, Jenna's rainbow partnered with Smiles for Sophie Forever in awarding "matching" family grants. Through this partnership, we gave $263,000 in grants to these families. Smiles for Sophie Forever was a non-profit organization named after Sophie who also lost her battle to a brain stem tumor. The rainbow and helping other families who have a child with brain cancer is also very near and dear to their mission, which is why we created a partnership in fulfilling family grants. In 2021, Smiles for Sophie had to close their foundation. The families requesting grants have been redirected through their website.
---
Camp Sunshine
JRF helped fund 42 families from all parts of the United States, to attend one week of camp at Camp Sunshine in Casco, Maine. Camp Sunshine provides families whose child has a brain tumor much needed respite, comfort and care in a medically supervised and therapeutic environment at no cost to the family.
---
Camp Dream Street at The Kaplen JCC on the Palisades
JRF funded for over 10 years the annual carnival at Camp Dream Street that was held in August at The Kaplen JCC on the Palisades in Tenafly, NJ. Camp Dream Street was a one-week tuition-free day camp held annually for children struggling with pediatric cancer and other blood disorders, and their siblings.
---
JRF Book Cart
One of Jenna's Rainbow's charitable activities is "children book drives." Many children provide "new" books to the foundation through mitzvah projects, receiving books in lieu of birthday gifts, schools, and various community service groups. We check all of the books to make sure they are new and we put colorful, fun labels on them identifying the charity.
We invested in a beautiful book cart and delivered it to the Jerome L. Greene Pediatric Hematology – Oncology Unit at the Children's Hospital at Montefiore, Bronx, NY. It is so refreshing to see the kids get excited about picking a book that they get to keep.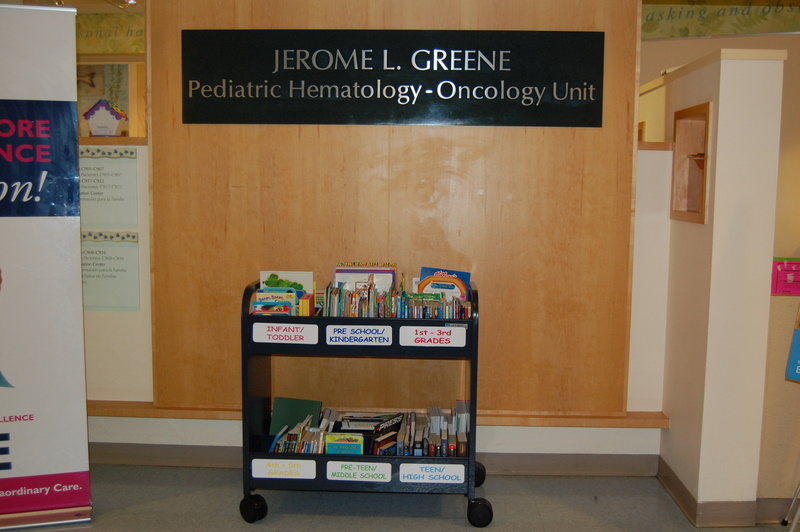 ---
Holiday Toy Drives
JRF organized annual toy drives in Smith and Maugham elementary schools and Temple Sinai Youth Group. Toys and gift cards were donated to children and their siblings at a holiday party and bedside in area hospitals.
---
Friends of Karen
JRF continued its commitment to provide funds to families in medical and financial crisis arising out of pediatric brain and spinal cord tumors through a grant to the Friends of Karen foundation.
---
Rise to Action- Conference for Pediatric Cancer Survivors
Fall 2007 brought with it a unique opportunity for young survivors of pediatric cancers including brain tumors to come together for a weekend of networking and education. Topics included information about late effects of treatment and follow up care, advocacy training, education and employment challenges, socialization, insurance and disability challenges. JRF provided funding as a bronze sponsor of this conference. Many large national groups and hospital participated in the planning and outreach of this conference.
---
Pediatric Brain Tumor Conference- Hope and Healing
Held at the Children's Hospital at Montefiore Medical Center, families were given the opportunity to learn about the latest treatments from medical professionals from around the country. JRF participated in funding this educational program.
---
Teen Survivor Intern Program
For 5 summers, JRF initiated and funded a paid summer internship program for teen brain tumor survivors living in the NYC area. This program has enabled teens to develop work skills, socialization, and self esteem development under the supervision of a Child Life Specialist.
---
Support at Beth Israel Hospital
The following is an excerpt from a letter written to the Foundation from Ruth Goodman, Clinical Coordinator of Beth Israel Dept. of Social Work:
This letter is to express my appreciation for the generosity you have shown to many of the families with whom I work at the Institute of Neurology and Neurosurgery. As you know too well, the stress that the parents of a seriously ill child face cannot be ennumerated. So many of them also can't be fixed. Thankfully, due to the help of Jenna's Rainbow Foundation, some of the financial burdens that families face can be alleviated….. Your support not only helps practical issues and others, it also sends families the much needed message that they are not alone in their challenge. No words can ever express how important that message is.
Jenna's Rainbow Foundation had provided a meal program that delivered a child-friendly dinner one night per week to patients at Beth Israel. The response was overwhelmingly positive. In fact, one family who participated promised to independently sponsor another dinner for the rest of the entire floor. The food was served in the playroom, which encouraged children and their families to get out of their rooms, get together, share a laugh and a nice meal – two important elements in healing.
---
Quality of Life Donations
We have provided non-traditional support for families and communities dealing with pediatric brain and spinal cord tumors. Often the amount of money needed to make a huge impact is small. Families in financial need and medical crisis have received local transportation, meals, phone cards, air transportation, laptop computers, and cash donations.
Jenna's Rainbow Foundation has been supplying The Children's Hospital at Montefiore Medical Center (New York City) with an on-going book library that is located on the oncology floor.
Many of our supporters have generously held book and toy drives to supply these items to the children in the hospital.
Most hospital food is not as child-friendly as one would hope. Many families in the midst of medical crisis face such financial difficulties that they cannot bring in outside food for their children or themselves. We have helped supply child friendly meals to patients in the hospital.
It's amazing how little it takes to light up a child's day.
---
Examples of How JRF Donations are Helping Those in Need…
Privacy of all individuals has been maintained
In the fall of 2003 Jenna's Rainbow Foundation was asked by Beth Israel North to provide aid for a family with a 5 year old boy with an inoperable brain tumor. The only way the child could leave the hospital and be attended to at home was if JRF funded homecare. Help was particularly essential in this situation because the child's father had died of cancer several months before and there were two healthy siblings at home as well. Everyone who donated time and money to JRF helped this child spend the remainder of his life at home with his family. A last wish was met and an unbearable journey, in some respects, eased.
JRF assisted a family who required childcare for two children at home while their toddler was undergoing months-long intensive treatments for an otherwise fatal tumor at Tomorrow's Children at Hackensack Hospital in Hackensack, New Jersey. At the Spring Fair in May, the family came by to express their appreciation to JRF for the generous funds provided during their crisis.
JRF received a request to help a high school boy who over the years has been affected by several brain tumors. As a result of these recurrences, he is quadriplegic and requires round-the-clock nursing care. Only 50% of homecare is paid for by the government and there is no health insurance available to help cover a child receiving this level of nursing care at home. JRF has been able to supplement the cost and meet the challenges of shrinking insurance coverage. Our assistance allows this young man to live at home with his loving family, continue to go to school and be an inspiration to all who know him.